What is MNE?
Think about what's available (foods, drinks, and dietary supplements) on your local military installation or ship—everything from vending machines to commissaries to dining facilities build the nutrition environment around you. MNE consists of all these available options within a local military setting, including DoD-funded food service operations and commercial venues.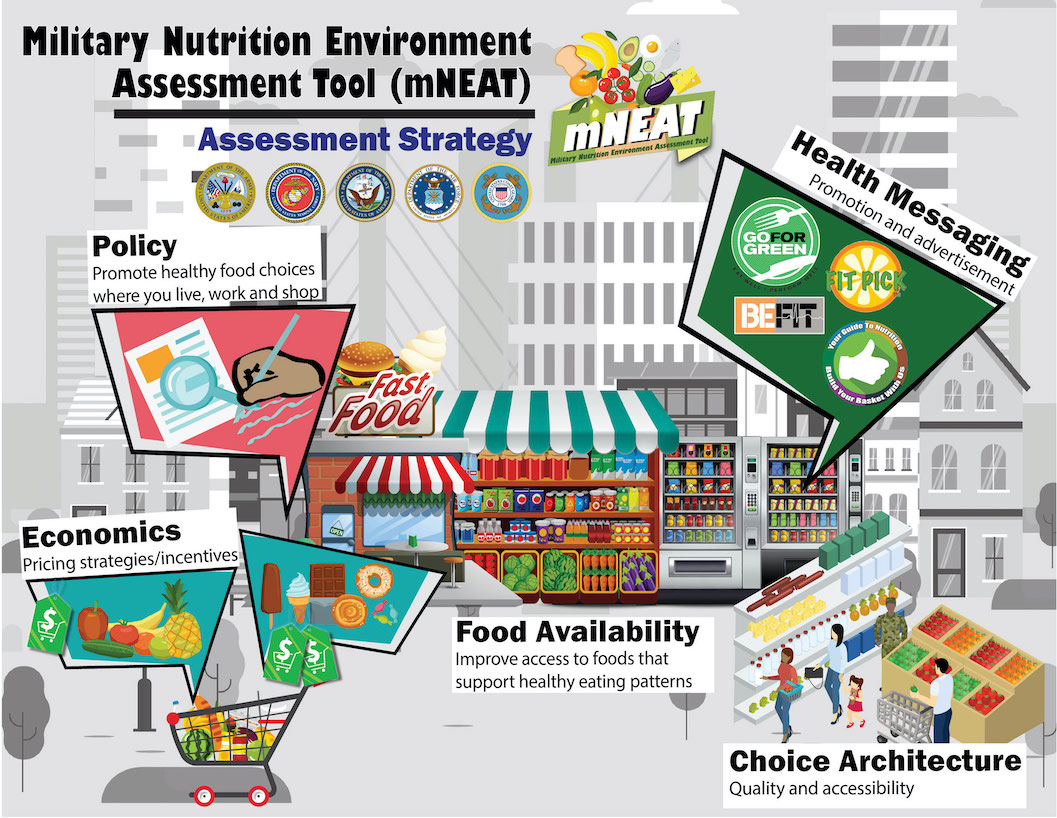 Why is MNE important?
Good nutrition establishes and promotes a healthy foundation for life. Less than ideal intake of nutrient-rich foods affects your ability to train, body weight, and risk of injury or chronic disease. A supportive nutrition environment provides access and availability to the type of fuel (foods and drinks) that helps Service Members and other members of the military community optimize their health and performance. Providing more choices for easy to find, delicious high-performance options fuels the military community to perform at their best—whether you're on the job, at the gym, with your family, or on missions.
How does MNE affect me?
MNE impacts where Service Members live, work, train, and play. Good nutrition supports health, performance, and endurance throughout your life and career cycle. Many Service Members fall short of the recommended amount of nutrient-dense foods like fruits, vegetables, and whole grains. Food service venues that offer more choices for high-performance fuel provide more opportunities to meet nutritional needs. A military nutrition environment that offers convenient, cost-effective, nutritious, and tasty foods also benefits the entire military setting.
What is the process to improve my local MNE?
Improving your local MNE includes an assessment to determine the current food landscape, collaboration and communication with community stakeholders, and development of strategies to enhance your nutrition environment. It's a multi-step process that works best with a solid team in place along with support from leadership and your community. Click on the button to find out more.
How do I assess my local MNE?
The Military Nutrition Environment Assessment Tool (mNEAT) provides an objective way to assess your local MNE. If you're interested in learning more about the mNEAT app, contact CHAMP's MNE Team at mneat@usuhs.edu.
What is mNEAT?
The Military Nutrition Environment Assessment Tool (mNEAT) is a standardized DoD web-based app. You can use the mNEAT app to assess the nutrition environment of a military setting such as an installation or ship. The tool scores three key areas—food policy, food availability, and behavioral design—for a variety of food service venues (vending machines, commissaries, dining facilities, snack bars, commercial restaurants, and more).
After completing assessments for different venues on your installation, the mNEAT app generates a report with a scoring breakdown. The app provides a score for the overall installation along with each venue type. These scoring reports can be used to identify MNE successes or progress along with areas for improvement.
If you're interested in access to mNEAT, contact CHAMP's MNE Team at mneat@usuhs.edu.
What are the benefits of conducting mNEAT?
Conducting mNEAT helps installation leadership, nutritionists, and food service operators understand their local nutrition landscape. It provides objective measurements of how venues are performing in food policy, food availability, and behavioral design (such as placement, promotion, and pricing). While mNEAT helps to identify gaps in your local MNE and inform action to enhance nutritional fitness, it doesn't promote change without further effort.
It's best to complete a mNEAT annually to track progress, changes, and efforts over time. Refer to your Service-specific policies for more guidance.
How can I improve my local nutrition environment?
After you assess your MNE, what's next? You can use this information to create an intervention or action plan to target a specific MNE area. Improving the local nutrition environment might mean working to offer more menu options or choices like whole grains, fruits, vegetables, lean proteins, and healthy fats that are high in nutrients, fiber, vitamins, and minerals. Also, improvements can mean making these options easier to find, quicker to grab for hungry diners short on time, and more budget-friendly to support nutritional fitness. Another strategy to improve your local MNE involves educating consumers and promoting high-performance choices in all venues. Lastly, creating or revising local policies that encourage a healthier food environment shows leadership support.
Check out the "Plan & Take Action" section for information on building a plan to enhance the accessibility, availability, and knowledge of nutrient-dense options.