Browse the list below to find answers to commonly asked questions about printing and ordering G4G education and marketing materials.
Contact Us
Do you have a unique printing request or resource need? We're happy to connect and help you navigate a way forward. Email us at G4GTeam@usuhs.edu.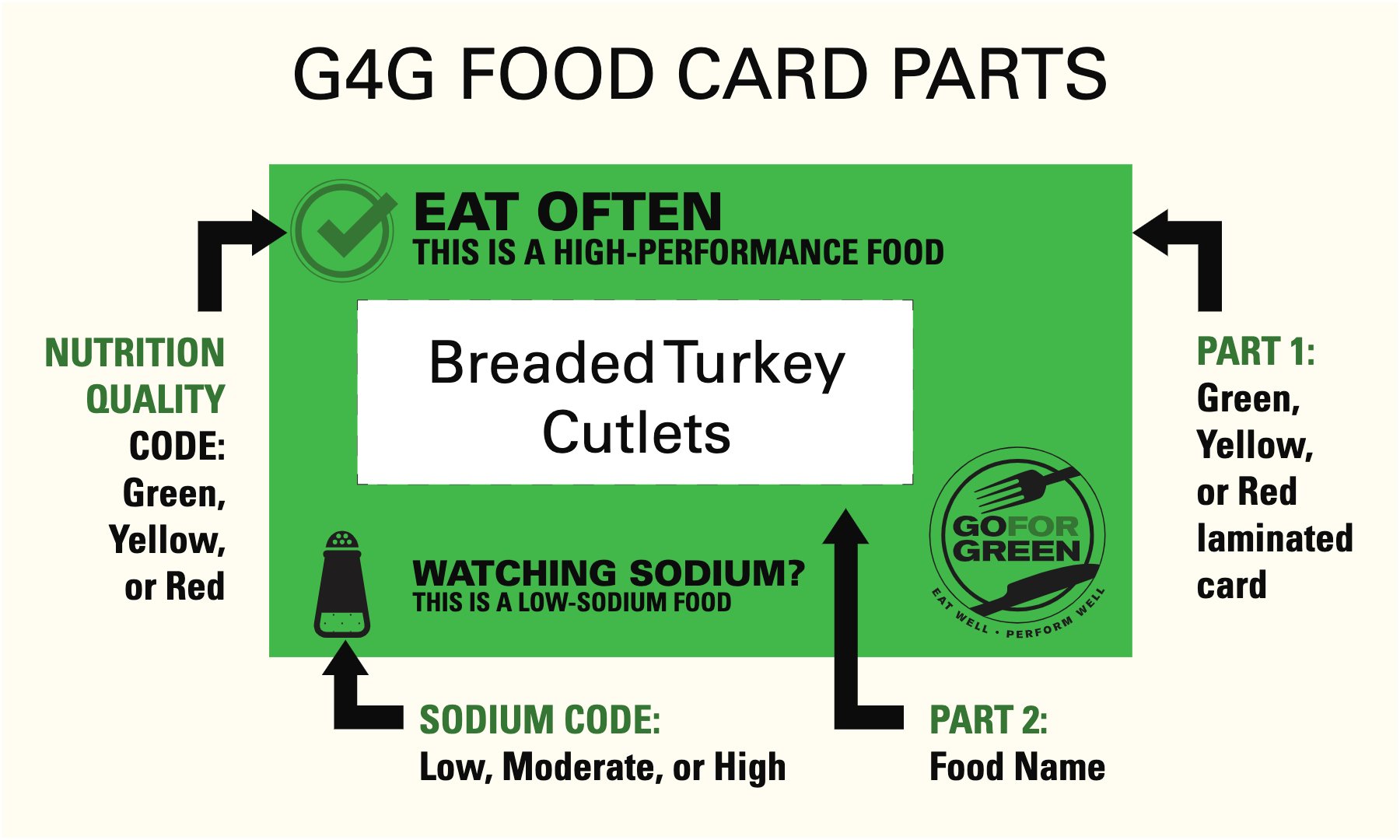 G4G 2.0 FOOD CARDS & BEVERAGE CARDS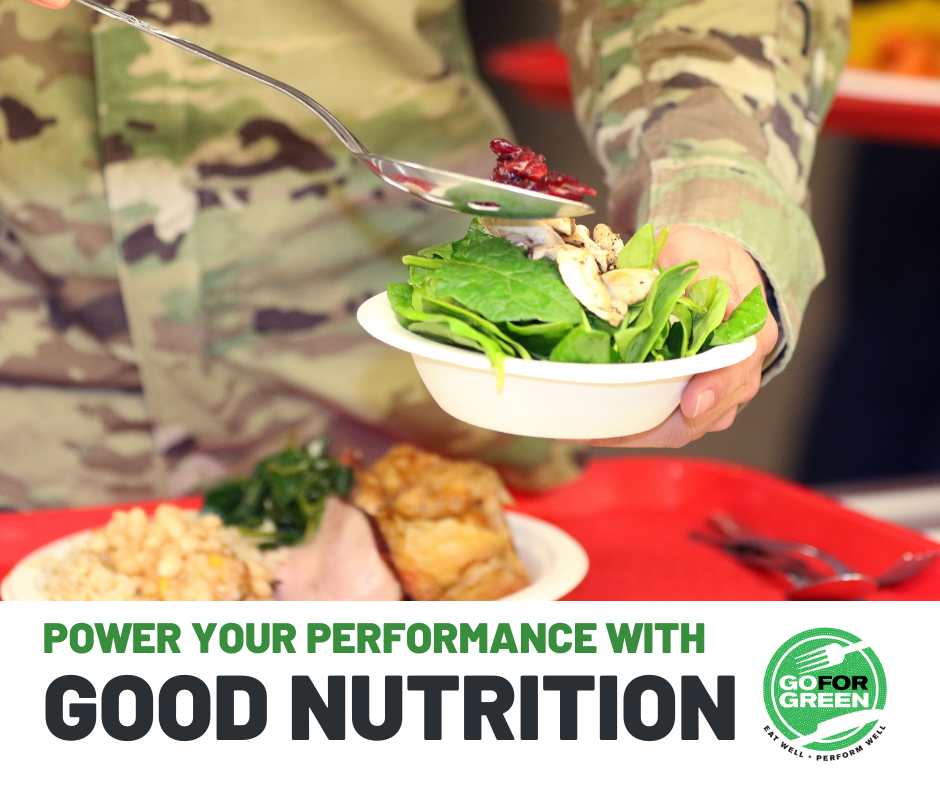 G4G 2.0 MENUS
I want to cut costs and save space by using digital menus. Where can I find G4G digital menu templates?
G4G digital-menu templates are approved for use in food and beverage stations throughout your dining facility or galley. Use these signs instead of or along with Food Cards. In addition, you can use these templates—which include G4G logo, color code, sodium code, and price (when applicable)—to create your digital menu boards.
Use Menu Board templates to display each serving area's menu on a screen too. "Build your own" Menu Boards are also a great option for diners to order from when creating a customized bowl or plate. Digital menus have many benefits.
Save your facility money by printing fewer materials.

Save time by preloading menu items.

Help create an organized and "eye-catching" display.
Tip from the field
G4G Team Leads & G4G Nutrition Leads: Looking for a G4G sample menu that's easy to transfer to digital displays, provides a variety of options for diners, and meets menu standards and guidelines? Check out the G4G 21-day Sample Menu.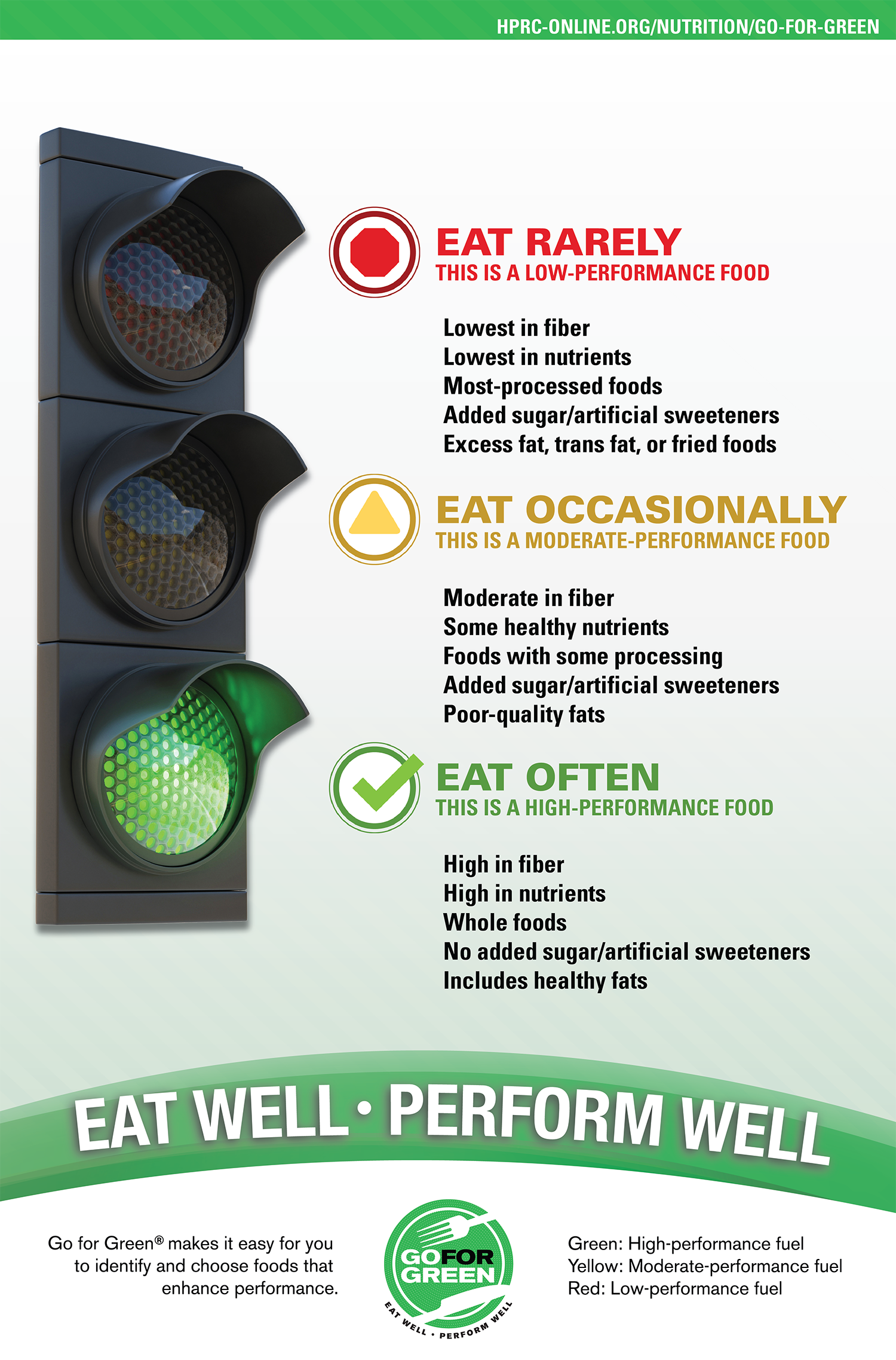 G4G 2.0 POSTERS
How do I order professionally printed G4G 2.0 Posters?
Are G4G 2.0 posters free?
Each Service and local dining facility or galley is responsible for their own marketing and supporting materials (Food Card holders, poster frames, sign holders, etc.), which aren't provided by the G4G Program Office. Refer to your Service point of contact for Service-specific guidance on obtaining G4G marketing and educational materials.
Professionally printed materials are available on the U.S. Army Public Health Center's Health Information Products e-Catalog. Or search "Go for Green" on the e-Catalog main page.
What are the benefits of using G4G posters?
Do you want to increase the number of Military Service Members who choose to "Go for Green" and eat at your dining facility? Marketing is key to program success, and eye-catching posters can help promote G4G and increase head count. Display G4G posters inside your dining facility and in high-traffic areas around your installation. Marketing with G4G posters offers even more benefits.
G4G complements initiatives within each Service to promote nutrition for performance and mission readiness.

Posters help raise awareness of how to use G4G for performance, readiness, and health.

Displaying G4G posters gains recognition from leadership for your efforts to optimize performance and draw Military Service Members into dining facilities and galleys.
G4G 2.0 GRAPHICS AND LOGOS
Can I use the G4G 2.0 logo?
Refer to G4G 2.0 Program Requirements for guidance on using the G4G 2.0 logo. The Go for Green® (G4G) term and symbols are trademarked by the U.S. Army. Any use of G4G name, logo, and symbols is not allowed by commercial entities in advertising or on product packaging labels without express written consent from the U.S. Army.
When can I use G4G graphics?
Download G4G Talking Points for ideas on how to get started. G4G graphics can be used to market and promote the G4G program, facility menu changes, and nutrition education. You can use these graphics in digital (digital screens, email, website, online newspaper or journal, and social media) or print (newsletter, newspaper, handout, and brochure) formats.
Can I use G4G graphics and logos in our facility's social media posts?
Yes! Social media is a powerful (and free!) strategy for letting your diners know about G4G in your facility. Also, it's an opportunity and engaging, fun way to educate Military Service Members on how to eat well to perform well. Take a look at the G4G ready-to-post messages and graphics to make connecting with your diners quick and easy.